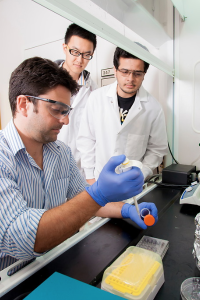 Publication Title
Journal of Bacteriology
Abstract
Replication of the miniF plasmid pML31 was examined during the division cycle of Escherichia coli growing with doubling times between 40 and 90 min at 37°C and compared to the replication of plasmid pBR322 and the minichromosome pAL70. The replication pattern of pML31 was indistinguishable from that of pBR322 at all growth rates and very different from the cell- cycle-specific replication of the minichromosome. It is concluded that both pML31 and pBR322 plasmids can replicate at all stages of the division cycle, with a probability of replication that increases gradually, but perhaps nut exponentially, during the cycle. In contrast, the modes of segregation of pML31 and pBR322 plasmids into daughter cells at division appeared to differ, raising the possibility that pML31 may segregate in a nonrandom fashion similar to that of chromosomes and minichromosomes.
DOI
10.1128/jb.179.4.1393-1399
Recommended Citation
Helmstetter, C. E., Thornton, M., Zhou, P., Bogan, J. A., Leonard, A. C., & Grimwade, J. E. (1997). Replication and segregation of a miniF plasmid during the division cycle of escherichia coli. Journal of Bacteriology, 179(4), 1393-1399.