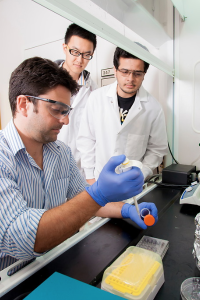 Publication Title
International Journal of Molecular Sciences
Abstract
Poria cocos (P. cocos) has long been used as traditional Chinese medicine and triterpenoids are the most important pharmacologically active constituents of this fungus. Farnesyl pyrophosphate synthase (FPS) is a key enzyme of triterpenoids biosynthesis. The gene encoding FPS was cloned from P. cocos by degenerate PCR, inverse PCR and cassette PCR. The open reading frame of the gene is 1086 bp in length, corresponding to a predicted polypeptide of 361 amino acid residues with a molecular weight of 41.2 kDa. Comparison of the P. cocos FPS deduced amino acid sequence with other species showed the highest identity with Ganoderma lucidum (74%). The predicted P. cocos FPS shares at least four conserved regions involved in the enzymatic activity with the FPSs of varied species. The recombinant protein was expressed in Pichia pastoris and purified. Gas chromatography analysis showed that the recombinant FPS could catalyze the formation of farnesyl diphosphate (FPP) from geranyl diphosphate (GPP) and isopentenyl diphosphate (IPP). Furthermore, the expression profile of the FPS gene and content of total triterpenoids under different stages of development and methyl jasmonate treatments were determined. The results indicated that there is a positive correlation between the activity of FPS and the amount of total triterpenoids produced in P. cocos.
DOI
10.3390/ijms151222188
Publication Date
12-2-2014
Recommended Citation
Wang, J., Li, Y., & Liu, D. (2014). Cloning and characterization of farnesyl diphosphate synthase gene involved in triterpenoids biosynthesis from Poria cocos. International Journal of Molecular Sciences, 15(12), 22188-22202.