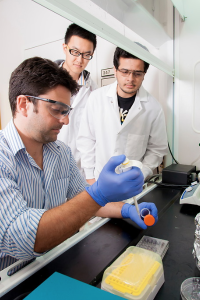 Publication Title
Genes and Development
Abstract
Initiating new rounds of Escherichia coli chromosome replication requires DnaA-ATP to unwind the replication origin, oriC, and load DNA helicase. In this issue of Genes & Development, Fujimitsu and colleagues (pp. 1221-1233) demonstrate that two chromosomal sites, termed DARS (DnaA-reactivating sequences), recycle inactive DnaA-ADP into DnaA-ATP. Fujimitsu and colleagues propose these sites are necessary to attain the DnaA-ATP threshold during normal growth and are important regulators of initiation timing in bacteria. © 2009 by Cold Spring Harbor Laboratory Press.
Publication Date
5-15-2009
Recommended Citation
Leonard, A.C., Grimwade, J.E. Initiating chromosome replication in E. coli: It makes sense to recycle (2009) Genes and Development, 23 (10), pp. 1145-1150.