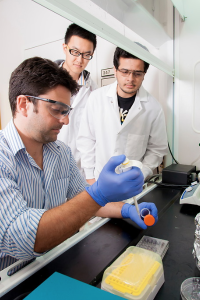 Document Type
Conference Proceeding
Publication Title
Proceedings of SPIE - the International Society for Optical Engineering
Abstract
Early detection and treatment of breast cancer is least costly in terms of dollars, morbidity and mortality. With new early detection x-ray technology, tumors can be found, diagnosed and treated at a much smaller size than is currently possible. This paper proposes the development of a high resolution, high quality imaging system. It is a laser-driven x-ray system with time-gated detection that removes scattering noise in the image and produces resolution on the order of 10 μm. This higher resolution and higher image quality will enable the detection of one or two millimeter tumors hopefully detecting them before metastasis. We also propose that tumor detection should be followed by an immediate needle-directed, optical fiber biopsy to instantly determine if cancer is present and, if present, the tumor should immediately be given a lethal treatment of laser or x-radiation through the same needle using fiber optics or hollow waveguides. This technology will help prevent multiple interventions resulting in both the lowest overall cost and a more efficacious therapy. The approach can be stopped at the first negative (benign) indication and will help forestall repeated examination as well as reduce patient anxiety.
Publication Date
9-12-2003
Recommended Citation
Waynant, R. W., Ilev, I. K., & Mitra, K. (2003). A concept for early cancer detection and therapy. Paper presented at the Proceedings of SPIE - the International Society for Optical Engineering, , 4949 425-432.