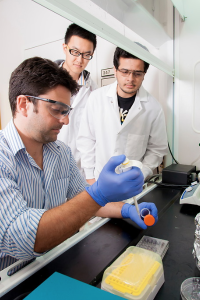 Publication Title
Nanoscale Research Letters
Abstract
The study was designed to determine the differential protein expression of Caco-2 cells treated with different forms of selenium including sodium selenite, selenomethionine (Se-Met), and selenium nanoparticles (nano-Se). Two-dimensional polyacrylamide gel electrophoresis (2D-PAGE) and mass spectrometry (MS) were used to identify the differentially expressed proteins. The results indicated that seven protein spots, ubiquitin-conjugating enzyme E2 (E2), glutathione synthetases (GS), triosephosphate isomerase (TSP), T-complex protein 1 subunit zeta (TCPZ), lamin-B1, heterogeneous nuclear ribonucleoprotein F (hnRNP F), and superoxide dismutase [Cu-Zn] (Cu, Zn-SOD) were significantly different among all the groups. According to the order of control, sodium selenite, Se-Met, and Nano-Se, the expression levels of two proteins (E2 and GS) increased and the other differential proteins were reverse. Except for E2, there were no significant differences in other protein expressions between the groups treated with nano-Se and Se-Met.
DOI
10.1186/1556-276X-9-589
Publication Date
12-1-2014
Recommended Citation
Fu, L., Yan, X., Ruan, X., Lin, J., Wang, Y. Differential protein expression of Caco-2 cells treated with selenium nanoparticles compared with sodium selenite and selenomethionine (2014) Nanoscale Research Letters, 9 (1), 9 p.