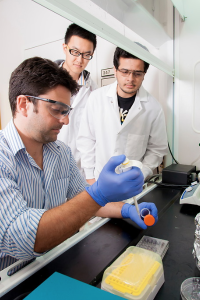 Publication Title
Orthopedic Research and Reviews
Abstract
Osteogenesis imperfecta (OI), commonly known as brittle bone disease, is a genetic disease characterized by extreme bone fragility and consequent skeletal deformities. This connective tissue disorder is caused by mutations in the quality and quantity of the collagen that in turn affect the overall mechanical integrity of the bone, increasing its vulnerability to fracture. Animal models of the disease have played a critical role in the understanding of the pathology and causes of OI and in the investigation of a broad range of clinical therapies for the disease. Currently, at least 20 animal models have been officially recognized to represent the phenotype and biochemistry of the 17 different types of OI in humans. These include mice, dogs, and fish. Here, we describe each of the animal models and the type of OI they represent, and present their application in clinical research for treatments of OI, such as drug therapies (ie, bisphosphonates and sclerostin) and mechanical (ie, vibrational) loading. In the future, different dosages and lengths of treatment need to be further investigated on different animal models of OI using potentially promising treatments, such as cellular and chaperone therapies. A combination of therapies may also offer a viable treatment regime to improve bone quality and reduce fragility in animals before being introduced into clinical trials for OI patients. © 2016 Enderli et al.
Recommended Citation
Enderli, T.A., Burtch, S.R., Templet, J.N., Carriero, A. Animal models of osteogenesis imperfecta: Applications in clinical research (2016) Orthopedic Research and Reviews, 8, pp. 41-55.