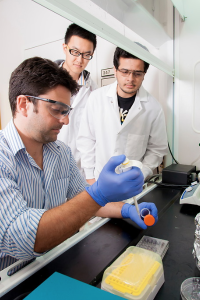 Publication Title
Northrop Grumman Engineering & Science Student Design Showcase
Abstract
Develop an innovative 3D printable prosthetic arm solution which is strong and life-like in appearance and function. The device should meet all FDA standards and be designed for commercialization.
Advisor
Kunal Mitra, Marius Silaghi, David Beavers
Recommended Citation
Brown, C., Berger, T., Spagnolo, A., Atkinson, T., Pastakia, M., Yamani, Z., ... Elena, M., Poster, (2016, April). PriMA prosthetics –3D printed myoelectric prosthetic arm. Poster presented at the Northrop Grumman Engineering & Science Student Design Showcase, Florida Institute of Technology, Melbourne, FL.