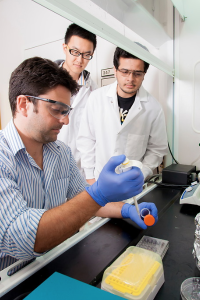 Publication Title
Antimicrobial Agents and Chemotherapy
Abstract
The in vitro susceptibility of Mycobacterium leprae to levofloxacin was studied by using two biochemical parameters to measure the metabolic activity of the organism. Levofloxacin consistently exhibited twofold greater bactericidal activity than ofloxacin, with the MIC being 0.75 μg/ml. When combined with one of the three rifamycin analogs, synergism was obtained with KRM-1648 and rifabutin but not with rifampin.
DOI
10.1128/AAC.39.9.2116
Recommended Citation
Dhople, A.M., Ibanez, M.A. In vitro activity of levofloxacin, singly and in combination with rifamycin analogs, against Mycobacterium leprae (1995) Antimicrobial Agents and Chemotherapy, 39 (9), pp. 2116-2119.