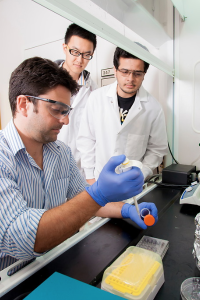 Publication Title
Antimicrobial Agents and Chemotherapy
Abstract
In vitro susceptibility of Mycobacterium leprae to two bipyridyl analogs was studied by using two biochemical parameters to measure the metabolic activity of the organism. VUF-8514 at 0.16 μg/ml, but not VUF-8842, completely inhibited the metabolic activity of M. leprae, and the action was bactericidal. When compared to rifampin (MIC 0.3 μg/ml), VUF-8514 was equally bactericidal against M. leprae.
Recommended Citation
Dhople, A.M., Ibanez, M.A., Dhople, A.A. In vitro activities of 2,2'-bipyridyl analogs against Mycobacterium leprae (1994) Antimicrobial Agents and Chemotherapy, 38 (12), pp. 2908-2909.